Two little blessings, sent from above. Twice the smiles, twice the love…
One of the most adorable things is having two children, be it twins or one another. Every child brings delight to their parents' hearts and homes, but twins multiply that love and joy. It feels almost painfully sweet to be holding two infants in arms. While crossing the street, you feel complete while holding hands with two toddlers on both sides. Indeed, life doesn't get any better than double hugs and "sandwich" cuddling with mommy in the middle.
So beyond sharing and multiplying all things, one of the necessary childhood elements must be double. Yes! You got us; the compact best double strollers. We will be guiding you about the double stroller types, buying guide, and our pick for the best double stroller.
Let's dig into the joyful world of double strollers and hope you enjoy every word of the read.
Guidelines for Choosing the Best Double Stroller.
Here are some factors to consider before buying the best double stroller.
Material:
There are a variety of materials used for manufacturing baby strollers, but to maintain the sturdiness and quality, only certain materials are preferred. For example, aluminum is used commercially for manufacturing the stroller's frame. Most customers also prefer steel because it ensures quality and strength. For the seat, the cloth is used, and plastic is selected for the tires and handles.
Weight and size:
After all, a double stroller is better than holding two different strollers, right? That takes us to its weight lightweight double strollers are easier to push, pack in the car, handle during traveling, carry upstairs, etc. Every Double stroller will be different in weight and size. There is a misconception that the lighter the stroller is, the weaker the stuff and quality will be. But it is not necessarily the case. One must ensure the material and give it a try before buying.
Safety standards for strollers: As in 2008,1300, incidents (injuries) related to strollers were reported.
It is mandatory to check the safety standards of whatever stroller you are buying. Strollers must have passed the ASTM standard tests as it ensures the safety standards of products (ASTM F833–19).
Seats:
The seat should have a low frame, and the wheelbase is kept broad. The stroller should not tip backward when lightly pressing down on the handles. Check the hinges and edges properly. If a basket is included for transporting packages, it should be placed low on the stroller's back and front of the back wheels. Double Strollers must have at least one break for parking, and their release mechanism must be located for easy accessibility, mainly when your child is restricted to a pram or stroller.
Storage:
Although double strollers usually would have more storage capacity, it is always essential to consider the storage capacity of strollers once taking a decision. Tether strap and safety shade are the plus points in any stroller. Sometimes having an extra room for a bit of picnic basket with the kids up to the park is always delightful.
Steering:
Comfort comes first, right? Ensure you're able to comfortably steer your double stroller and feel confident in maneuvering it in and out of tight spaces, doing an about-face, and tipping it back to mount curbs. You should be able to walk with the stroller using your normal stride without hitting your shins on it.
Adjustable Handle:
It is convenient to use the adjustable handles for strollers. For example, when you're jogging or doing some exercise, you can manipulate the stroller easily. Furthermore, the adjustable handles provide convenience and help in handling the stroller by multiple users.
Double stroller types:
After considering some guideline factors above, let's talk about several double stroller types and best seller products in each of them. We would also be listing some pros and cons about each of them for better knowledge.
NOTE: The images attached are random and might not be referring to the exact type mentioned below.
Twin Stroller/side by side stroller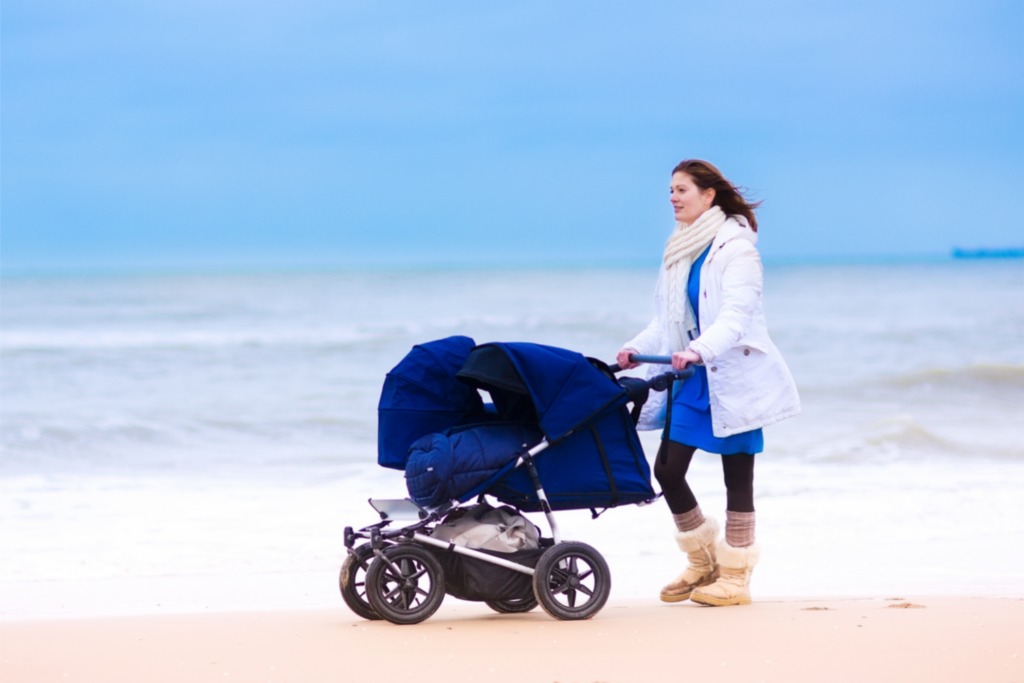 If you have twins or even two kids of young age, side-by-side strollers are a fantastic investment. As the name suggests, twin strollers can accommodate two car seats. It is a type of double stroller in which two seats are next. Wide ones are preferable in suburbs, etc., but twin strollers of premium quality are narrower and suitable for narrow doorways or aisles, etc. As both children require the same space or room within the stroller, they can easily see and play with each other using double strollers. Also, both are easily accessible by mothers.
Pros:
Both of your children share the same view of the surroundings as both are facing the same side.
Each seat can also be individually reclined.
They're easier to maneuver and push.
While tandem strollers are wider, side-by-side strollers are simpler to manage over uneven ground.
They are easy to fold as well.
Cons:
They aren't available with a travel system. Neither does it have the facility to accommodate an infant car seat.
Tandem Strollers: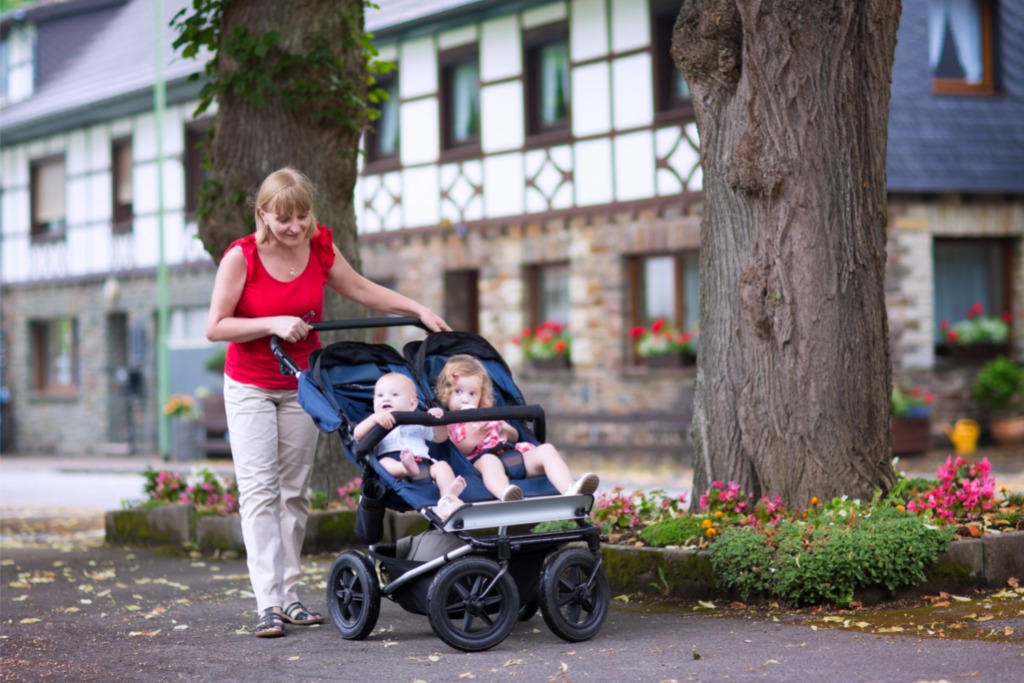 Also called inline strollers, certain tandem strollers allow you to rearrange the seat in several ways when dealing with developing infants.
Pros:
For example, the Baby Jogger City Select has more than 16 seat combinations.
Tandem strollers, like side-by-side strollers, have their own set of disadvantages.
Cons:
They are much harder to steer.
The majority of tandem strollers are long, whereas side-by-side strollers are broad.
When carrying a tandem stroller, you must be "literally" hands-on. Smaller automobile trunks may not be able to accommodate them.
All-Terrain Double stroller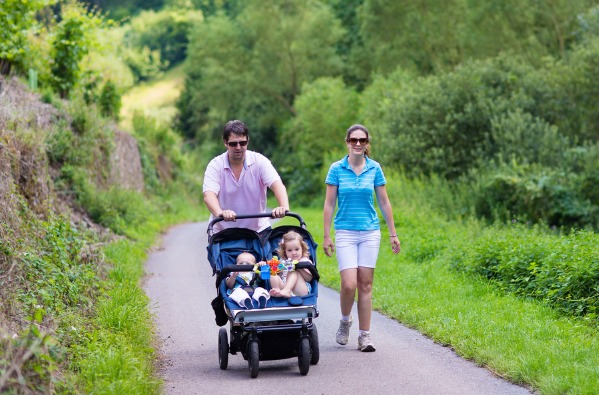 If your area isn't paved and you frequently travel on uneven terrain, investing in an all-terrain double stroller is well worth it! Not every Double stroller is suitable for rough terrains, so look for one made especially for this task.
Pros:
They are made up of air-filled tires, and a suspension mechanism is standard in all-terrain double strollers, allowing for a smooth walk on any surface.
It would be best to get a high-quality all-terrain double stroller that can effortlessly transition from a hard to a soft texture and back.
Cons:
An adapter is available in the all-terrain Double stroller; most all-terrain double baby strollers can accept an infant car seat;
Because many of these strollers can only fit one infant car seat, not two, an all-terrain stroller isn't the ideal option for twins until they're older.
Double Umbrella Stroller: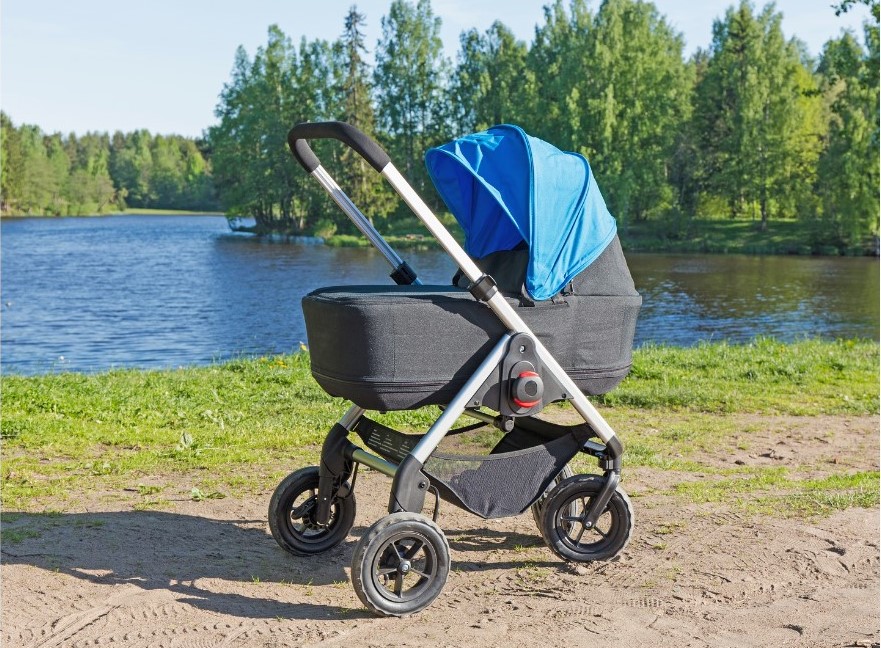 A basic umbrella stroller is a type of Double stroller lightweight and folds up like an umbrella (which is why it's called an umbrella stroller). Baby and toddlers old enough to sit independently are typically the most outstanding candidates for umbrella strollers.
An umbrella stroller can be a better option if you go through confined locations like stores and packed sidewalks.
These types are especially great for doing errands quickly, jumping in and out of a car or public transit, or rushing through airports to catch flights. Let's dig into the pros and cons and find some examples of the best double umbrella stroller.
Pros:
When you need something compact, lightweight, portable, and easy to maneuver, umbrella strollers are the way to go. Many parents store umbrella strollers in their car trunks as a backup.
They're ideal for use on public transportation: getting them on and off buses, trains, etc., requires no effort.
Cons:
However, this does not imply that umbrella strollers are boring and simplistic.
Sit and Stand Strollers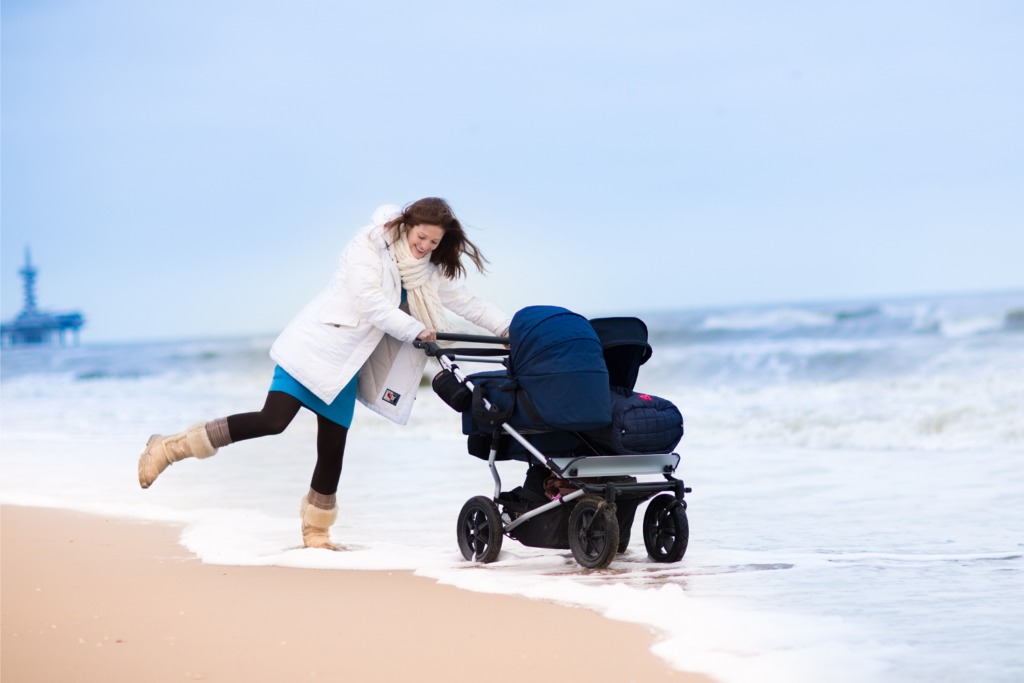 Sit and stand strollers are the type of strollers with one seat in front of the other, instead of traditional double strollers with two side-by-side seats. There usually is a five-point harness in the front seat of these strollers that can also accommodate n infant car seat.
Pros:
Tandem seats are designed to accommodate newborns, toddlers, and preschoolers.
The narrow design makes it simpler to go through stores and other congested areas.
An adjustable canopy shields the front rider from the sun and wind.
Cons:
Smaller wheels that operate well on flat ground can't handle rocky tracks, so they're not designed for all-terrain use.
Double Wagon Stroller
Your weary youngster may curl up in a wagon for a comfortable night's sleep. A stroller wagon has plenty of room for kids and deep compartments for supplies. Furthermore, the push/pull nature of the item makes maneuvering it simple for your muscles. It is capable of traversing rugged terrain. It's also appropriate for your older kids. For children, self-boarding is a possibility. It shields your youngster from the sun's harmful rays of the sun.
Double Jogging Strollers
Another most essential type is considering the best double jogging stroller. For busy families, double jogging strollers are ideal. They are often designed with three huge bicycle-style racing wheels and are highly durable to endure the vibrations at a higher speed. Jogging strollers are also helpful for strolling on rugged terrain or uneven surfaces, in addition to jogging.
However, they aren't very maneuverable because they have a fixed front wheel; try an all-terrain double baby stroller for additional mobility. Below are some best double jogging stroller examples.
Best Double Stroller Recommendations
We hope you're enjoying every glimpse of it right now and finding it useful for your purpose. Now that we have read some double stroller types and some buying guide factors. Do you think we will leave you hanging without recommending our top picks for the overall best double stroller? No way! Our proper research and reviews are combined together to produce some best recommendations listed below.
| | | | | | | | |
| --- | --- | --- | --- | --- | --- | --- | --- |
| | | | | | | | |
| | Evenflo-Pivot-Xpand-Modular | Evenflo-Modular-Travel-System | | | Summer-Stroller-Lightweight | Joovy-Kooper-Stroller-Forged | Contours-Element-Double-Stroller |
| | | | | | | | |
| | | | | | | | |
| | | | | | | | |
| | | | | | | | |
1. Evenflo-Pivot-Xpand-Modular-Stroller:
Converts To Double stroller. This stroller expands from single to double with a unique slide and lock system that expands the frame to accommodate a second toddler seat or infant car seat. Evenflo's Pivot Xpand Modular Stroller makes traveling with a newborn or developing infant a breeze.
The Pivot Xpand Modular Stroller is the ideal full-size stroller for today's parents and their developing toddlers or families. This 4-mode baby stroller quickly transforms from a single to a double stroller. Parents will also like the 3-position adjustable handle and detachable bumper bar, as well as the Flex-Hold Parent Cup Holder, which holds several sizes of liquids and minimizes spillage.
Pros:
Portable and easy to assemble.
Design is simple.
High-quality material was used for manufacturing this stroller.
This stroller bears.
Versatility (various forward/outward and diagonal positions).
Ample storage space beneath the carriage.
Car seat adaptor for two infants.
Cons:
There is only one cup holder that clips on the side of the frame.
2. Evenflo-Modular-Travel-System-SafeMax:
This stroller expands from single to double without any tools or extra parts. A simple slide and lock system quickly extends the frame to accommodate a second toddler or baby seat.
This stroller comes up with up to 22 configurations. The one-of-a-kind design has a seat for both one or two passengers. You can make your child sit at different heights, upright or reclined, in both parent-facing and forward-facing positions. Its infant car seat mounts directly on the frame, and the toddler seat quickly flips to infant mode, cradling baby at an angle that is pleasant for them.
Pros:
The toddler seats are incredibly lightweight.
Easy to clip on the toddler seat.
This car seat is compact and fits easily in the very tiny trunk of my car.
It comes with a giant basket.
Easy to steer.
Brakes are easy to apply; take off with your foot.
Adjustable handlebar with no additional attachments needed to clip on the infant or toddler seat.
With the toddler seat connected, the compact fold effortlessly self-stands.
Cons:
It takes a little care to clip in the baby seat connection.
3. Scout-Double-Stroller-Charcoal-Galaxy:
It's a uni-sex stroller. JPMA approved; meets or exceeds ASTM and CPSC requirements. A five-point safety harness with plush shoulder padding and fluorescent material keeps you and your children visible at night. Multi-position reclining seat Cup holder for parents: plenty of storage space, including two rear canopy bags. Sun visors on extendable canopies. 5.5-inch wheels with a swivel in the front and a suspension system. This stroller comes with a lightweight design that fits through typical 30″ doorways. Dimensions when assembled: 23.4 inches D x 29.9 inches W x 37 inches H, weighing 18.30 pounds.
Pros:
Reasonable price, budget-friendly
It is compact and long-lasting.
Easy and Simple to fold and open.
Folds up similarly to umbrella strollers (some other double strollers take almost an entire room when folded!)
Fits the Disney sizing requirements.
Cons:
Because it is a bit smaller size, children can hardly sit in it when dressed warmly.
4. Baby-Jogger-City-Double-Stroller:
It's a new version of this stroller and includes all the excellent characteristics of the older version, with a few improvements.
This stroller boasts unrivaled maneuverability on any terrain because its forever-air rubber tires never run flat and all-wheel suspension. Even with two children in tow, this lightweight double stroller won't slow you down since it fits through any standard doorway and folds fast.
Effortlessly with the characteristic Baby Jogger one-step, in-seat fold, the adjustable handlebar, hand-operated parking brake, and extra-large storage basket make this bike extremely convenient. UV 50 canopies with peekaboo windows keep your youngsters cool on your family trips. Make a travel system out of a Baby Jogger car seat or a City Mini 2 Double Pram, or personalize your voyage with a selection of extras.
Pros:
The ride is smooth, the turning radius is fantastic, and you can push it with one hand.
It is simple to unroll and fold.
Adjustable calf supports and near-flat reclining chairs assist you in determining the most comfortable posture for your child.
Cons:
When folded, it does not stand upright.
5. Summer-Stroller-Lightweight-One-Hand-Compatible:
This lightweight stroller simplifies any excursion. The stroller has a solid yet lightweight frame that is 30 inches wide and easily fits through most regular doorways. The Summer 3Dpac CS+ Double Stroller offers a lightweight frame (just 23 lbs.). In addition, the adjustable extra-large canopies have a flip-out sun visor and a peekaboo window.
In addition, there is an easy compact fold with auto-lock and carry strap. Only works with the Graco SungRide Click Connect, the Chicco KeyFit 30, the Chicco Fit2, and the Baby Trend Secure Snap Gear 35. At any given moment, only one car seat can be utilized. There is no food tray. The multi-position seat recline and leg rest will keep your children comfyThe maximum weight capacity of this twin stroller is 50 pounds per seat.
Pros:
Folds and is easy to pick.
Doesn't take up a lot of room.
No car seat adapters are necessary for this stroller.
Easy to steer and maneuver through doors.
A parent/child pocket for treats.
Cons:
Only one cupholder is present, no child or parent tray.
6. Joovy-Kooper-Stroller-Forged-Iron:
Extremely simple with quality of one-handed fold. Consists of a foldable tray. This stroller has an adjustable footrest with three positions. The cloth on the seat is detachable and machine washable. Built-in storage includes a mesh cup holder and a zipper pocket for keys and beverages. In addition, there is a big below storage compartment with a capacity of 15 lbs. Extra-large water-repellent canopies offer UPF 50 sun protection from nearly every angle. This stroller is significantly more compact. It also folds inside to preserve the cloth. Peek-a-boo windows are included. Joovy basket is a lot easier to find.
Pros:
Easy to open and close in one motion.
It takes up around a quarter to a third of the space in the trunk.
This stroller can be easily steered with one hand.
Large storage bin beneath.
Compact enough to fit in railway luggage racks.
Cons:
The cup holder is a bit difficult to handle.
7. Contours-Element-Single-Double-Stroller:
The Element Stroller Base model comes with a seat, a parent organizer, and a tote bag. All other components (including the second seat) are purchased separately. The side-by-side design fits through most doorways and is simple to flip between single and double settings. The extensible under-seat storage basket has a tonne of room, and the comprehensive parent organizer keeps stuff close at reach.
Your necessities are carried in the side storage Tote (included with the base model). The tote puts everything close to you, providing convenient storage. The universal car seat adapter is compatible with more than 25 car seat models (sold separately). A complete list of suitable car seats is provided below. This stroller also has a 50+ sun canopy and a breathable mesh panel.
Pros:
Provides an amazingly smooth ride.
Plenty of storage capacity.
Consists of over 35+ configurations.
The tote puts everything close at reach, providing convenient storage.
The best part about this stroller set is that it has many accessories. The accessories do need to be purchased separately.
Cons:
It does not come with a baby seat.
Our Best Pick:
While there are multiple options to consider or the best double stroller, We truly understand that budget is also one of the most important factors in choosing the best double stroller so:
If you have a flexible budget, Baby-Jogger-City-Double-Stroller is a way to go on our top pick as it is smooth and comfortable with multiple features. But no problem, If you're more comfortable in slightly less expensive options, our top pick is Summer-Stroller-Lightweight-One-Hand-Compatible.
We hope you've liked our content and hope you enjoy it with your little kiddos around and about.
---