A stroller is a necessary element of infant equipment and one of the most significant investments you'll make. If you play it correctly, you'll get miles, memories, and years out of your child's stroller. That is if you purchase the correct one. Before you utilize the strollers for your baby's comfort and yours', you must be aware of the user's guide and the pros and cons of the strollers you use. If you're concerned about the quick stroller guides for buying the best strollers, no need to hover around, we will provide you with some premium and easy guidelines about strollers usage and how to buy the best strollers 2022.
Guidelines for Choosing the Best Strollers 2022:
Here is a quick guide for buying and using the best strollers 2022:
Material:
There are a variety of materials used for manufacturing baby strollers, but to maintain the sturdiness and quality, certain materials are preferred. For example, aluminum is used commercially for manufacturing the stroller's frame. Most customers also prefer steel because it ensures quality and strength. For the seat, the cloth is used, and plastic is selected for the tires and handles.
Folding functionality:
A stroller with a one-hand folding system is always preferred as it makes the strollers less bulky and easy to handle. But the two-handed folded system is also a good one to deal with. Make sure to check the stroller's folding tact's as not every stroller follows the same technique.
Weight and size:
The lightweight strollers are easier to push, pack in the car, handle during traveling, carry upstairs, etc. Some strollers range from approximately 8 to 10 pounds, mostly the umbrella ones. There is a misconception that the lighter the stroller is, the weaker the stuff and quality will be. But it is not necessarily the case. One must ensure the material and give it a try before buying.
Safety standards for strollers: As in 2008,1300, incidents(injuries ) related to strollers were reported.
It is mandatory to check the safety standards of whatever stroller you are buying. Strollers must have passed the ASTM standard tests as it ensures the safety standards of products (ASTM F833–19).
Check the breaks properly:
Breaks are an essential part of any vehicle, especially for a child's safety; stroller breaks must be appropriately checked. Strollers must have at least one break for parking, and its release mechanism must be located for easy accessibility, mainly when your child is restricted to a pram or stroller.
Seats:
The seat should have a low frame, and the wheelbase is kept broad. The stroller should not tip backward when lightly pressing down on the handles. Check the hinges and edges properly. If a basket is included for transporting packages, it should be placed low on the stroller's back and front of the back wheels. Strollers must have at least one break for parking, and its release mechanism must be located for easy accessibility, mainly when your child is restricted to a pram or stroller.
Storage:
Also, consider the storage capacity of strollers. If you have more than one child, you must prefer double or triple strollers instead of dealing with the ones separately. Tether strap and safety shade are the plus points in any stroller. There must be the ability to add more seats to strollers.
Strollers With A Car Safety Seat:
It would be best to get a stroller to accommodate a car seat. Wouldn't it be great if you could take your kid out of the car seat and go instead of waking them up? It is a bit more expensive than standard strollers, but it is helpful for frequent travelers.
Steering:
Ensure you're able to comfortably steer your stroller and feel confident in maneuvering it in and out of tight spaces, doing an about-face, and tipping it back to mount curbs. You should be able to walk with the stroller using your normal stride without hitting your shins on it.
Adjustable Handle:
It is convenient to use the adjustable handles for strollers. For example, when you're jogging or doing some exercise, you can manipulate the stroller easily. Furthermore, the adjustable handles provide convenience and help in handling the stroller by multiple users.
What are the type of Strollers?
Following are some types of strollers considered to be the best strollers 2022:
Travel System: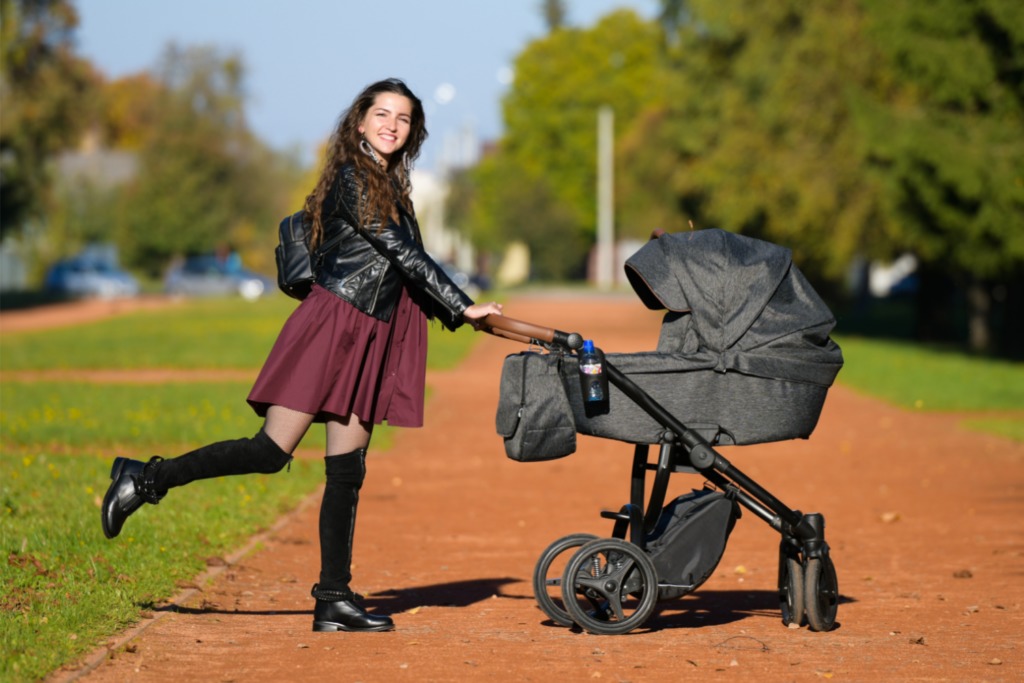 Travel systems are multipurpose kits that comprise a stroller and an infant car seat and are sold as a package. Extra car seat bases and other accessories will be included in some cases. There are numerous models, pricing, and configurations to choose from. Because it's sold as a set, it's always compatible. They tend to have a lot of different characteristics. Here's a deeper look at the benefits and drawbacks of various modes of transportation.
Full-sized Strollers: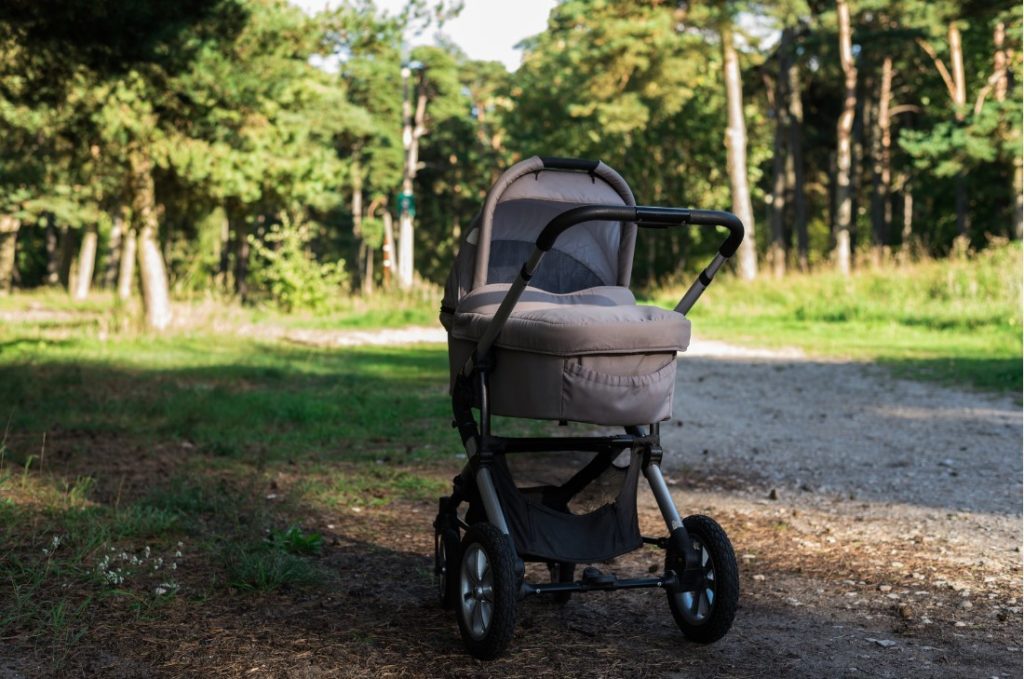 These strollers are the conventional option because they are bigger, sturdier, and usually more durable. Furthermore, many models have a variety of amenities that not only make your baby's trip more enjoyable but also make your life easier. Advantages of a full-size stroller include: A full-sized stroller is a go-to option for many families. It covers all the essentials while also having nifty extras like the seat is wide, comfy, and well-padded. The seat can be installed forward-facing or backward-facing. A car seat can be attached if desired.
Jogging Strollers:
Three air-filled wheels are commonly found in jogging strollers. Unlike a standard stroller, a jogging stroller's front wheel can be locked to improve the vehicle's stability and maneuverability. The tires of jogging strollers are typically air-filled to provide improved cushioning and comfort for your child on uneven terrain. You can easily enjoy jogging side by side, handling your baby.
Car Seat Carriers:
An infant car seat is designed to make the transition from the car to the stroller as simple as possible without disturbing a sleeping baby. Unlike a convertible car seat, an infant car seat is portable and does not attach to the seat permanently; instead, it is portable. They can also be used as a carrier or a rocker, and most can be converted into a stroller using a supplementary system or an adapter. The baby car seat is fitted in the vehicle and latches onto a base.
Double strollers:
The next popular type of best strollers 2022 is Double strollers. A double stroller can help you handle children, whether you have two or more newborns or a toddler and a baby. If you're wondering about buying a twin stroller, have a look at this list of all the advantages. While a double stroller is not a cheap purchase, Parents are well aware that the expense of other necessities may rapidly mount up; it is unquestionably an investment that will keep your children safe and secure while providing convenience in everyday life.
Triple strollers: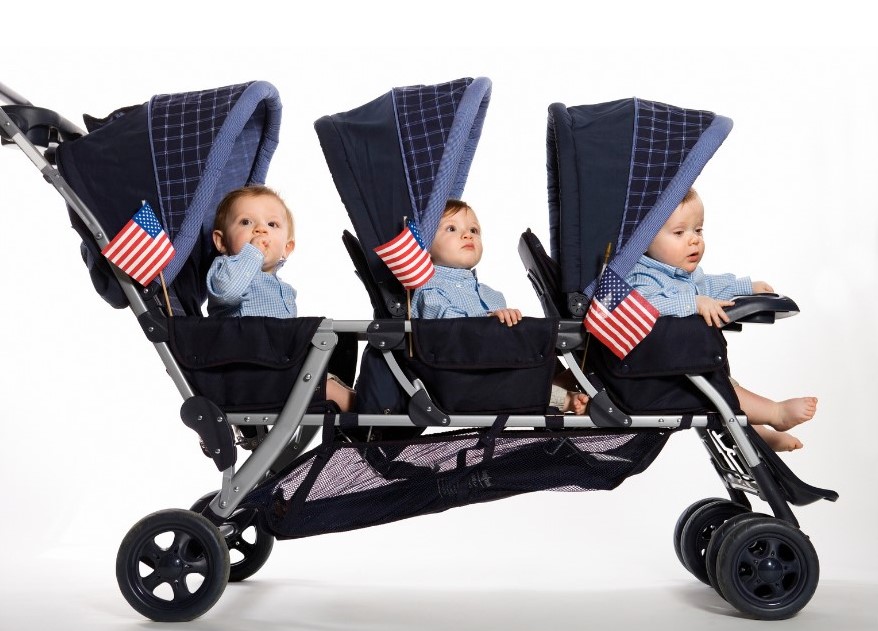 Suppose you are having triplets or twins plus a youngster. A friendly stroller is, in any case, a crucial investment for parents. A triple stroller is essential for getting out and about with three kids and just two hands. You have various options to consider if you're looking for a triple stroller. Be aware that triple strollers are both expensive and large. A stroller for three children is almost always significant and hefty, even though many double strollers have sleek and compact looks. If you only plan to use the stroller sometimes, buying a double stroller or a single stroller may be a better option. However, if you have triplets, you should purchase triple strollers.
Umbrella strollers: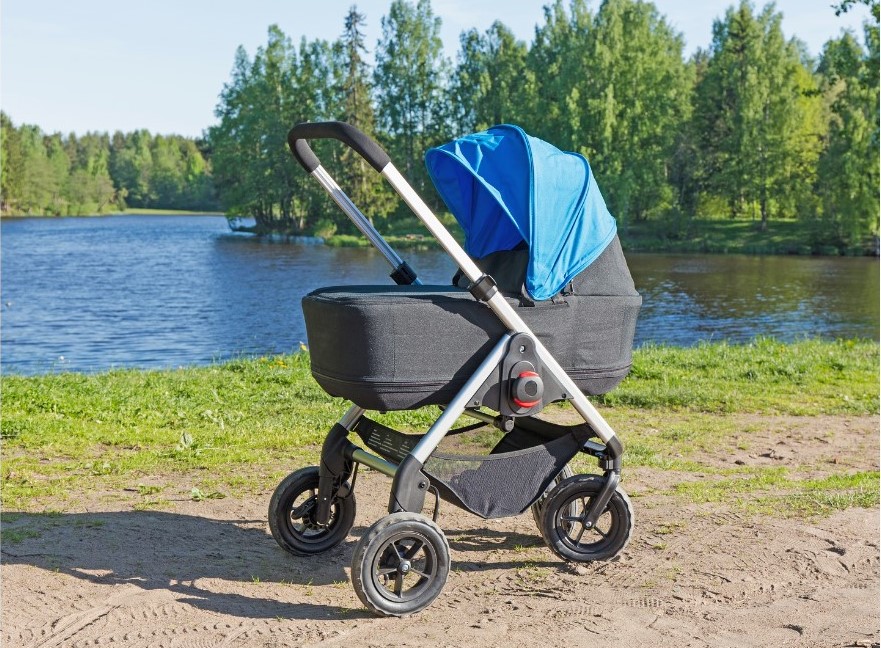 The ideal strollers for aircraft travel are umbrella strollers and pocket strollers. Umbrella strollers are often lightweight, and their tiny fold makes them easy to gate check for flights or store in the trunk of a car without taking up too much space, making them excellent travel strollers. They frequently come with a carry strap, making them convenient to carry when holding a toddler's hand or carrying a newborn. An umbrella stroller differs from a pocket stroller, which features a tri-fold that allows it to fit in the airplane's overhead compartment. Here is the list of some best strollers 2022.
Top Recommended Strollers
That Being said…
The jewel in the baby product crown is the stroller…
We understand that choosing a stroller can be confusing, and every parent wants to buy a stroller that suits them best. Even though many strollers are available, we have narrowed it down to these below after our research and review for best strollers 2022. We have also arranged the reviews received by other buyers into the pros and cons of each.
| | | | | | | | |
| --- | --- | --- | --- | --- | --- | --- | --- |
| | | | | | | | |
| | | Thule Sleek City Stroller | Century Stroll On 4-Wheel | | | Infant Toddler Baby Stroller | Thule Urban Stroller-glide 2 |
| | | | | | | | |
| | | | | | | | |
| | | Polyester, Aluminum, Plastic | | | Polyester, Aluminum, Plastic | | |
| | | | | | | | |
| | | | | | | | |
1. Britax-B-Free-Stroller
The basket isn't robust, so don't put too many heavy things in it. The strap to adjust the seat to sit up and lay down is hard to use and gets stuck. Great maneuvering. One-hand push is easy. This stroller possesses an adjustable handlebar that is fantastic for heightened parents. Excellent foot clearance for walking parents; No low bar to kick. This stroller comes with a Big Canopy, a big peekaboo window. The pull-down rear wall of the basket and front access flap under the footrest are excellent features.
Pros:
The lock is easy to use
Compartments are big
The seat is adjustable and can go far enough to lay a child down.
The handle feels nice and can be adjusted to your height.
Easy to move around.
Material is easy to clean.
Cons:
The stroller is heavy so getting on and off the bus is a bit of a struggle.
2. Thule Sleek City Stroller
To increase efficiency, you can add any additional accessories. This car seat has a modular design. Thule has everything you need to make every excursion a family event, from cup holders and food trays to footmuffs and changing bags. Best choice for your newborn as well.
Reclining Seat A silent, one-handed recline provides comfort when sleeping, relaxing, or standing. Simple compact fold with auto lock for easy folding and going. The stroller can be folded either with or without the seat attached. The Thule Sleek has a future-proof design and can be upgraded. The integrated suspension on the Thule is noticeably better over rough terrain.
Pros:
Compatible with the addition of another car seat, sibling seat, or bassinet.
Shock-absorbing four-wheel suspension for a comfortable ride.
Lockable swiveling front wheels.
Large expanding luggage basket with zip-top cover.
Cons:
The basket isn't robust, so don't put too many heavy things in it.
3. Century Stroll On 4-Wheel Lightweight Stroller
The stroller is easy to lift and stands up folded while getting other things together. It unfolds quickly, and two yellow buttons on either side are a little hard to push to fold back up, but that might be because it is new. The one wheel in front makes moving even through the grass manageable.
It is not as sturdy as more expensive strollers but works well as a second stroller to get around town or theme parks. Its fabric is manufactured with recycled materials. Takes up less room in the trunk, closet, or wherever you put it. It is an ultra-lightweight travel system Canopy that is large and flexible, with a peekaboo window.
Pros:
Sturdy and well made.
Very lightweight and compact.
Looks lovely and regal.
Very inexpensive.
Pretty Cleanable.
Cons:
Two separate brakes for back wheels (somewhat annoying)
4. Joovy-8225-Kooper-Stroller-Paprika
It is a fantastic stroller that is neither too small nor too large. The cushioning on the seat, the padding on the shoulders, and the belt crotch are amazing. The canopy is large. It's pretty thin, so you might have to buy a rain cover separately. A trifold stroller takes up less room than an inexpensive umbrella stroller.
It slides through narrow passageways. Nothing is more frustrating than wheeling a GIANT stroller through a store. This stroller comes with a solution as it is more than just an umbrella stroller; it is far more helpful than a 'regular' stroller. You don't need a stroller to get your infant to recline or turn around.
Pros:
Reasonably lightweight.
The seat fabric is easily removable and washable
Large wheels for an easier push.
Provides more space for kids and your belongings
The most durable, simple, and sleek design ever.
Cons:
There is not enough room for the headrest.
5. CYBEX Eezy S Twist 2 Stroller, 360° Rotating Seat
This stroller's all-wheel suspension design allows it to move smoothly between surfaces. The integrated leg rest provides comfortable riding for infants six months and older, while the retractable bumper bar allows for simple access from either side of the stroller.
The stroller may be easily reclined in either the parent or front-facing positions, including in a near-flat place. When it's time to depart, the stroller collapses into a self-standing storage position with a single-hand fold. Its all-wheel suspension system provides a smooth ride on various surfaces, and the UPF 50+ certified extended canopy shields your child from the sun's rays. Thanks to a zipped back pocket, all of your things are easily accessible.
Pros:
No air in the tires. Instead, tires are made up of solid material
Provides protection from ultraviolet rays, provides sun shading
High-quality material
This stroller allows one-hand folding
Smooth breaks
Unique and sleek design.
Lightweight and easy to fold
6. Infant Toddler Baby Stroller Carriage:
It has ventilation in three different places and just glides. This is an excellent buy for your newborn, especially during the summer, so they aren't overheating in a car seat while strolling them around because they can lay back and have airflow coming in from the sides of the front stroller. It is so easy to manage and steers so smoothly, that you can very quickly open a door for yourself and gracefully wheel the carriage. Ergonomic design is ideal for infants and toddlers.
The silver appearance appears to be highly exquisite and luxurious; anti-shock design, the springs in the front wheels absorb shocks to safeguard the baby's brain and body. All-terrain stroller. Easy to ride on any road; versatile design, front wheels may swivel 360° or be locked in a particular position. Linen materials are not readily ripped or pierced. As a result, the newborn baby sleeps soundly in the bassinet stroller.
Pros:
The tires are sturdy- not foamy material like most strollers
It has 6 position options that are very functional for daily use and different baby development stages.
The lightweight anti-rust aluminum alloy stroller frame is robust and pleasant to the touch.
Use genuine nat-rubber and high-quality PA plastic.
The coverlet that zips onto the stroller
It is a unique stroller that gets a lot of compliment
Cons:
You cannot click an infant car seat into it.
7. Thule-Jogging-Stroller-Shadow
It is a model with front and rear wheels that lie deeper beneath the kid seat rather than protruding out with a more upright sitting posture. Then this is the ultimate one-and-only stroller you'll ever need in your life. Your child will surely enjoy the journey since it is designed with a comfy chair, a cushioned 5-point safety harness with a multi-position canopy. The seats are pretty comfortable. It can also be converted into a toddler stroller, making it one of the best strollers 2022.
Pros:
The one-handed recline is ideal for on-the-go sleep.
This three-wheel stroller has an exceptionally smooth ride.
The canopy provides proper ventilation.
Large storage basket with zip-top cover.
Turning is very smooth, light, and accessible.
This stroller has a mesh pocket behind the seat.
It's pretty easy and intuitive to adjust its seat straps.
Cons:
This stroller has a weight capability of 75 pounds.
Our Best Pick:
While there are multiple options to consider, our top pick can only be one which is Thule-Jogging-Stroller-Shadow.
This stroller has topped the mark for many parents with multiple features and instant comfort levels. We hope you enjoy taking your little kiddo out and around with these options of best strollers 2022.
---